The 2021 Subaru Love Promise Customer and Community Commitment Award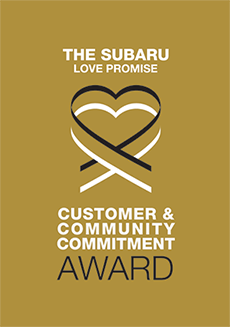 We've been nationally recognized for our dedication to our customers, our community, and the Subaru Love Promise.
We're honored to receive the 2021 Subaru Love Promise Customer and Community Commitment Award. This award nationally recognizes elite Subaru retailers who provide an exceptional customer experience at every interaction with Subaru. These retailers have also demonstrated an outstanding commitment to supporting passions and causes in their local communities in important areas such as the environment, community, health, education, and pets.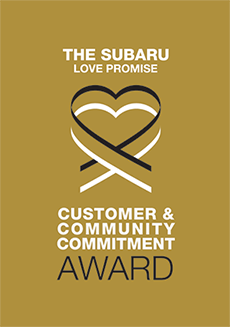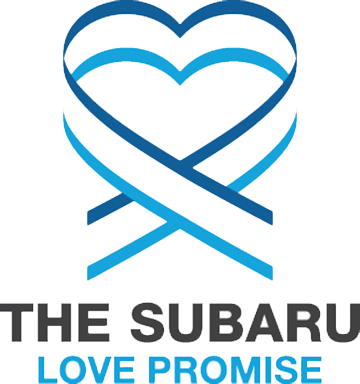 What is the Subaru Love Promise?
Subaru and our retailers believe in making the world a better place and the Subaru Love Promise is our vision of respecting all people. This is our commitment to show love and respect to our customers and to work to make a positive impact in the world.
How is Cleo Bay Subaru dedicated locally to the Love Promise?
Our Love Promise can be seen in various partnerships with local charities and non-profits. We're grateful for the opportunity, not only to be a part of our community, but to serve it as well.
Love Promise Stories from Cleo Bay Subaru
Subaru and Cleo Bay Subaru believe in making a positive impact on the communities in which we live and work. We uphold that belief through our Love Promise Community Commitment. Every month, we select inspiring stories from customers and partners from around our area who strive to support our collective commitment and feature them here
Texas Humane Heroes wins again!! - Teryl M
Thanks again to Subaru of America and Cleo Bay Subaru on another successful year of finding new homes for deserving pets!! We couldn't be happier to be teamed up with Cleo Bay to help our no kill shelter find great families for the great pets pictured below! We look forward to continuing to save our wonderful animals with the help of Cleo Bay Subaru!
---
Cleo Bay helps Families in Crisis - Juan W
Earlier this year our local Families in Crisis Branch received a generous donation from both Subaru of America and Cleo Bay Subaru. The donation of 80 blankets will help our charity give some added comfort to our members of the community in need this winter and holiday season! We greatly appreciate the thought and the time from our friends at Subaru and Cleo Bay Subaru and look forward to working with them in the future!
---
Hometown Charity: Texas Humane Heroes - Teryl M
Texas Humane Heroes is proud to partner with Cleo Bay Subaru again this year! Cleo Bay has been a dedicated and upstanding partner to animals in need across Texas. Texas Humane Heroes rescues over 4,000 dogs and cats each year from shelters forced to euthanize for space. Because of the generous investment from our friends at Cleo Bay Subaru, we can save more animals than ever before. Texas Humane Heroes' operations are 100% dependent on private donations, grants, and generous gifts from partners like Cleo Bay. 2020 has brought many unforeseen circumstances for us all, especially for non-profits like Texas Humane Heroes. Cleo Bay Subaru has provided vital exposure for our animals to find their forever homes and reliable funding to ensure Texas Humane Heroes is able to continue the important work of rescuing, healing, and adopting out animals in need from all across Texas. We are so grateful for our long-standing partnership with Cleo Bay Subaru and Subaru of America.
---
Cleo Bay Subaru Provides Hope - Alyssa W
On August 2, 2019, Cleo Bay Subaru joined The Leukemia & Lymphoma Society to deliver warmth and hope to patients at the Baylor Scott & White Cancer Clinic in Killeen. From the second Joshua, Thomas and Bailey walked into the infusion room, they brought smiles and joy to so many. Each of them took the time to talk to patients and deliver blankets individually. They took special care in making sure each and every patient and caregiver received a message of hope written by the wonderful customers and staff at Cleo Bay. One patient was so shocked by this random act of kindness, he started to tear up; but these guys instantly brought a smile back to his face by reminding him that there is hope in this dark time. Thank you Cleo Bay Subaru for helping LLS serve cancer patients and provide light, hope and warmth!
---
Texas Humane Heroes - Marissia F
Cleo Bay Subaru has gone above and beyond for the homeless pets at Texas Humane Heroes. Here at Texas Humane Heroes, we prepare animals for adoption by making sure they are spayed or neutered, up to date on their shots, and microchipped. Many of our animals are pulled from shelters that euthanize for space, so by pulling them, we are able to offer them a second chance at life. Since we strictly operate based on donations only, our budget is often what prohibits us from pulling more animals. Because of this generous donation from Subaru, we are not only able to pull more animals but also make sure that while all our animals are in our care, they have the best possible living conditions and resources. Our contact at Cleo Bay, as well as the rest of the staff, were always incredibly kind and excited for us. We have had such a great experience working with them and look forward to more collaborations in the future. Thank you Cleo Bay Subaru and Subaru of America!
---
Subaru Loves Learning - Tanya D
I want to thank you for the donation of books! Our students are blessed to have such a strong partnership with you. The gift of a book takes students far beyond where we can go on a school bus. It opens young minds to new learning and creates a safe way to explore new worlds. Thank you for your kindness! Our students and staff appreciate the Subaru Loves Learning program! Kind Regards, Tanya DockeryPrincipalTimber Ridge Elementary School
---
Subaru Loves to Care - Chelsea H
"This summer I had an opportunity to deliver blankets with Cleo Bay Subaru in partnership with the Leukemia & Lymphoma Society and Subaru Loves to Care. The amazing associates came out to Baylor Scott and White and not only presented a blanket but interacted with the patients. I know the warmth from the blankets as well as the warmth from the associates will be a lasting impression during their cancer journey and beyond. Thank you, Subaru, for this amazing partnership and for your caring associates!!"
---
Subaru Ambassador Day of Caring - Fort Hood S
Along with the Central Texas Area Subaru Ambassadors and the Fort Hood Stray Animal Facility, Cleo Bay Subaru teamed up in June to host a very successful pet adoption event. With the help of all the gracious volunteers Cleo Bay Subaru was able to help adopt all but one of the 14 puppies brought out by the Fort Hood Stray Animal facility! Along with Subaru, Cleo Bay loves pets and two of our employees pitched in and helped give a couple of the puppies awesome homes themselves! We look forward to working with these groups in the future because Subaru loves pets!!!
---
Subaru Ambassador Day of Caring - Fort Hood S
All of us here at the Fort Hood stray animal facility would like to give a big shout out to Cleo Bay Subaru and the central Texas Subaru ambassadors for making our pet adoption event in June a huge success!!! Thanks to them and the generous people that adopted our pets we were able to adopt all but one of the 14 dogs that we brought for this event! Even a couple of Cleo Bay employees stepped up and took a couple of our puppies home! We look forward to working with these two groups in the future and helping out our pets in need!!
---
Cleo Bay Subaru Loves Learning - Tonya D
Thank you so much for your very generous donation to our campus. The five boxes of books will be put to great use as our students enjoy to opportunity to Read, Read, Read!!!Your ongoing support to our campus is so very appreciated! Jennifer Larson Principal's Secretary Timber Ridge Elementary School 254-336-6659 (Office)254-336-6653 (Fax)
---